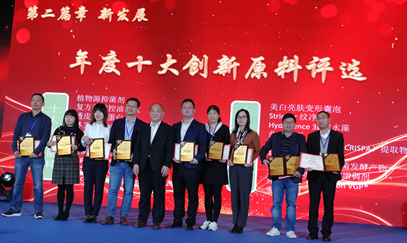 On December 7-8, 2019, the 2019 (4th) China Cosmetics Science and Technology Festival, hosted by the Guangdong Cosmetic Science and Technology Research Association, was convened at the Summer Palace Hotel International Convention Center in Guangzhou. The annual "Top Ten Innovative Ingredients" and "Most Innovative Team" Awards for the cosmetics industry were also grandly presented.
After many rounds of competition, Zhuhai Nature Journey Biotechnology Co., Ltd.'s main product "Plant-originated Bacteriostat" was selected as one of the top ten innovative raw materials in the "Top Ten Innovative Raw Materials" competition.
At the moment when consumers are awakened to safety consciousness, Nature's Journey plant-originated bacteriostat can perfectly replace the chemical synthetic preservatives commonly used in cosmetics by virtue of five advantages: all-natural plant raw materials, broad-spectrum antibacterial, highly effective antioxidant, safe and stable, and environment-friendly.
The selection of "Top Ten Innovative Ingredients of the Year" is the most golden and authoritative award in the domestic cosmetics industry. This selection shows that the Nature Journey's plant-originated bacteriostat has won the recognition by the industry. Continued endeavor will be made to provide the cosmetics market with healthy, green and sustainable plant-originated preservative technology, and propel the healthy development of the cosmetics industry.